About JIAO HSIUNG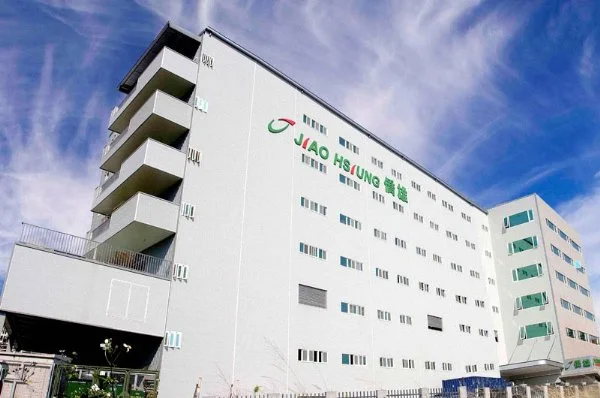 We are ball pumps manufacture in Taiwan since Nov.19th 1993. We are specialized in plastic-injection production. Our main products are hand ball pumps and training marker cones. Since 1993 to 1998, Jiao Hsiung continually increased equipment / injection machines from 1 set to 23 sets; and now we have become one of the main pumps manufacturers in Taiwan. In order to meet the increasing market demand, Jiao Hsiung developed the first double action pumps in 1997, and acquired patents in several countries, and then started mass-production in 1998. Therefore, we started to offer competitiveness goods for customers.

During these 20 years, Jiao Hsiung has owned overtake 40 patents in the world, and keep applying around 2-3 patents annually. It's the way we keep our products competent in the market.

In order to strengthen our potency in the global market, Jiao Hsiung finished the construction of new plant in 2014. It is including 9,950 square meters of factory divisions and 1,000 square meters of business division. We have 95 employees, including 10 staffs of R&D and QC department. We built up not only R&D testing centers and Physical / Chemical Laboratory for even higher quality to meet standard of REACH and CPSIA, but also 12 modern production lines for urgent, mass, various kinds of demand from customers.


Manufacturing processes: Raw Materials → Injection → Printing → Assembly → Packing → Export.

Jiao Hsiung strive to improve production efficiency and lower the costs. Automatic / semiautomatic of the factory processes makes our quality steadier. Besides, we develop customized items actively for customers' requests, which including plastic, rubber, metal, textile and electron of diversified products.
For improving quality management, Jiao Hsiung passed ISO 9001 quality control system, and get ISO14001 (Environmental Management System), WRAP (Worldwide Responsible Accredited Production) and BSCI (Business Social Compliance Initiative) certifications. We are expecting to get SA8000 (Social Accountability) and OHSAS 18001 (Occupational Health and Safety Assessment Specification) for conforming to factory audit of customers in the near future.
And we also have the test reports and certifications via SGS / INTERTEK as follows:


2004:Obtained ISO 9001:2008 certification

2015:Obtained ISO 14001、WRAP and BSCI certification

2016:Obtained ISO 9001:2015 and ISO 14001:2015 certification

EN71-1, EN71-2, EN71-3, (Toys Safety)

REACH (Registration, Evaluation, Authorization and Restriction of Chemicals)

CPSIA (Consumer Product Safety Improvement Act)

2018 : Obtained ISO 14001:2015、ISO 9001:2015 and BSCI certification